NORTHEAST PARTY HOUSE, SAT 16 JUNE, 2018
We're super stoked to announce that Northeast Party House will be performing a huge show on Saturday 16th of June at The Wool Exchange Entertainment Complex in Geelong. After the overwhelming response to their DJ sets during our summer series, it was only a matter of time before we brought NEPH back for a full scale live show!
The good times never seem to end for Northeast Party House. Since their formation in 2010, the Melbourne six-piece have continuously produced reputable original works, held an engaged loyal fan base and delivered stirring live performances across festivals and national headline tours respectively. If the huge crowds that have turned out to see their stand out sets are any indication to go by, Geelong is in for a real treat!
URBAN SPREAD
FEATURING
NORTHEAST PARTY HOUSE
SAT 16 JUNE, The Wool Exchange, Geelong
44 Corio St, Geelong VIC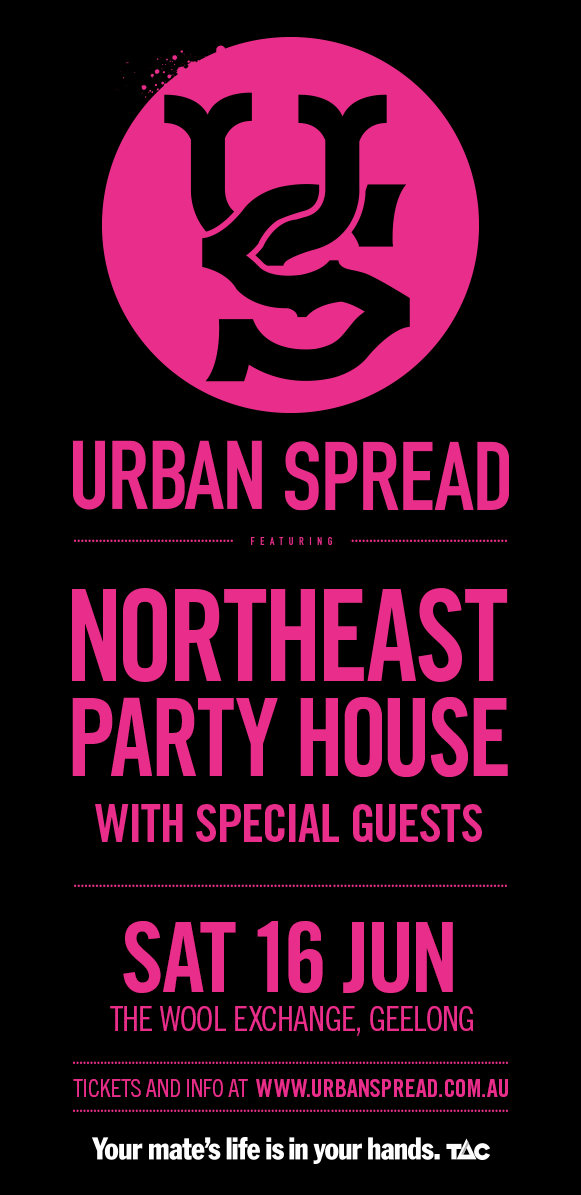 Over the 7 years since their formation the band have enjoyed immense success – Their debut Album 'Any Given Weekend' released in 2014 saw opening track 'The Haunted' on high rotation on triple j and currently sits over 2 million streams. The 12 months after the release of the highly acclaimed album, with four national tours of Australia (including sell out shows) under their belt, and new Australian management Fingerless Glove Projects on board, the band culminated 2015 with their international debut. The band performed shows in LA, as part of Culture Collide Festival before a string of performances in New York at CMJ Music Marathon. They then flew over the Atlantic to play an introductory sell-out show in London and a headlining slot at the famed Club NME at Koko's. The band continued onto Germany, having been invited by renowned Berlin radio station FluxFM, to perform FluxFM Sessions before rounding out there inaugural world tour in Prague, playing Nouvelle Prague Music Festival.
The first half of 2016 saw the band complete the writing and recording for album number two – titled 'Dare". Dare's recording was split across Melbourne and London while the band was touring the UK and Europe in May. The self-produced 'Dare' was mixed and mastered by in house drummer Malcolm Besley. The album was preceded by single "For You" which was instantly added to triple j (taking the total to 6 tracks added to high rotation), debuted on the Shazam and Future Hits Chart, featured in the Top Tracks Chart on iTunes and has since generated 2 million plus streams. Returning to the UK and Europe gave the band a chance to further establish artistic prospects outside of Australia – playing major festivals The Great Escape and Dot To Dot, as well as more intimate venues across the UK, Netherlands and Germany. In January 2017 the band signed to US based publishing house Primary Wave Entertainment, providing a platform for Northeast Party House to capitalize on the best US licensing opportunities available.
WEBSITE
TWITTER
FACEBOOK
INSTAGRAM